Magic code editor for web developers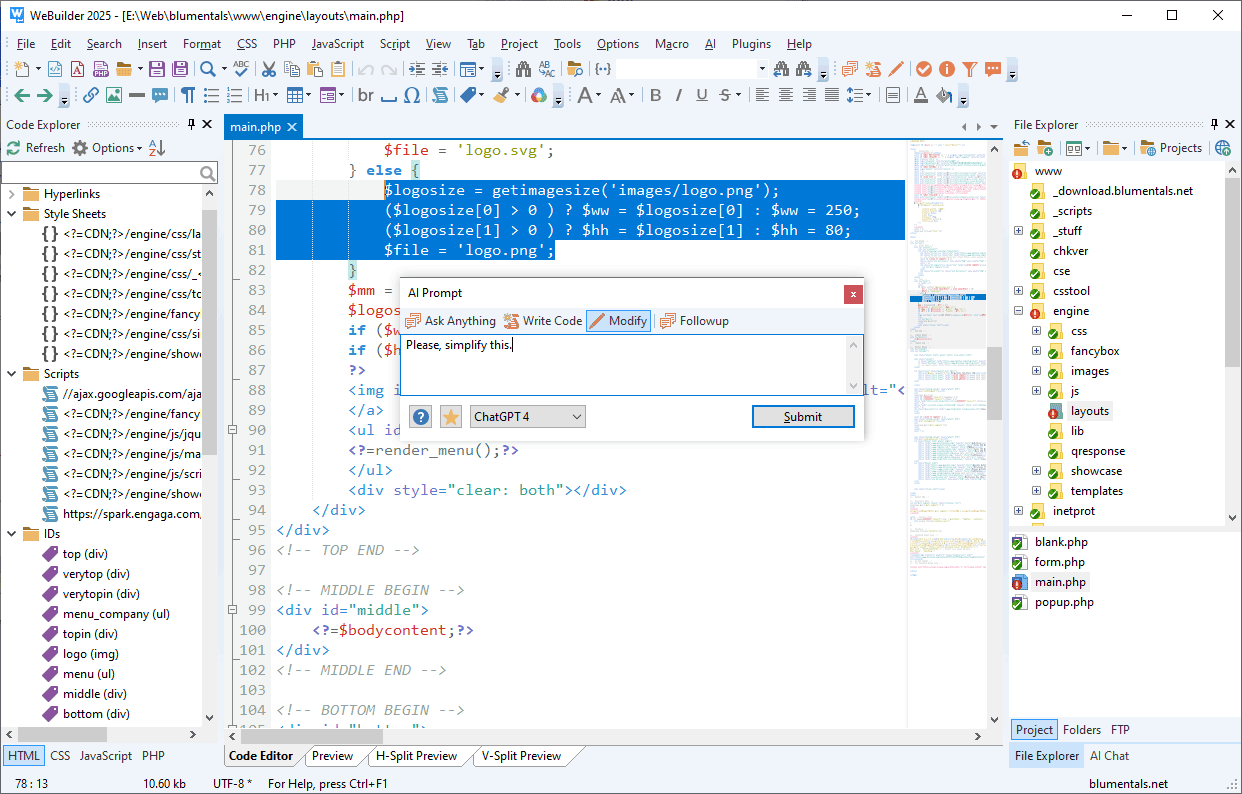 Create and edit web page code faster and easier.
WeBuilder is a faster, smarter and more powerful all-in-one code editor for web developers. Clean interface, quick startup, superb flexibility and powerful features allow you to create and manage code written in HTML, CSS, JavaScript, PHP, Ruby, Python, ASP, SSI, Perl and other languages faster and easier, while integrated tools enable you to validate, reuse, navigate and deploy your code in an efficient and sophisticated manner.
What's new in version 2015?
Overview
Version 2015 is the best code editor we have ever made.
Built upon the most successful predecessor
Up to date with latest standards – HTML5, CSS3, Web 2.0 philosophy.
Address many of the best suggestions from our customers accumulated over the past 2 years.
Better HTML and CSS support
Updated HTML5 language specification
Updated CSS syntax highlighting
Updated CSS definitions according to latest standards and drafts
Updated CSS compatibility info

Updated CSS compressor for better CSS3 support
Updated CSS3 gradient generator
Updated LESS and SASS syntax highlighting

Added code collapse for CSS

Better JavaScript support
Improved JavaScript language definitions
Improved JavaScript auto complete

Improved JavaScript syntax highlighting
Improved jQuery support

Updated jQuery framework
Better PHP support
Updated PHP function list
phpDocumentor support

Updated PHP syntax highlighting – support for namespaces and new keywords as well as multiple bug-fixes
PHP variable highlighting in strings

Improved Find Declaration feature
TWIG highlighting

Heavily improved PHP auto complete
Chained calls are now supported for unlimited depth
phpDocumentor info is now used to show result type in auto complete where available for user functions, methods and properties for auto-complete
Improved lookup for local variables
Constants now show up in PHP auto complete

Improved text editor
Indent lines / guides

Quick color preview in the editor via mouse hover

Improved comment toggling
Cool DejaVu Sans Mono font is now bundled with the editor

Improved preview
Updated built-in Chrome preview
Address bar and refresh button added to full-screen preview
Improved cursor/preview synchronization with Chrome support
Improved FTP/SFTP/FTPS
Tree-view for FTP/SFTP browsing
Drag and drop files to/from FTP tree
Details view in FTP/SFTP sidebar

Upload whole directories to FTP
Recursive CHMOD for whole directories

Improved framework support
WordPress
CakePHP
Laravel
Zend Framework
Updated some existing frameworks

Open-source JavaScript-based framework scraper plugin for adding new frameworks
Improved tools
Updated Language Browser – now you can browse all installed frameworks

Asset dialog windows (for image, script, CSS etc. insertion) now remember last directory on a per project basis
User libraries for auto complete are now updated more dynamically
Faster find and replace in files
Plugins
Easy plugin installation from web-based repository

Proper Emmet (ZEN-Coding) plugin with all the awesome features

DevDocs.io plugin

Improved plugin engine
Many other fixes and smaller updates
Improved: Accessibility and support for high DPI settings
Improved: Paste works when auto complete popup is open
Improved: Added SVG file format
Improved: Added JSON file format
Improved: Select Tag command now works better
Improved: Find All now always uses entire scope
Improved: Built-in web server now supports UTF-8
Improved: <?php is now used instead of <? as default setting
Improved: Localization in all languages
Improved: Multi-monitor support
Improved: SQL window
Improved: AltGr key behavior is now more consistent with other software
Fixed: Problem with Preview scrolling
Fixed: UTF-8 support in SQL browser
Fixed: Templates can now be saved easily in the template folder
Fixed: Copy with highlighting feature
Fixed: Open from web now supports Unicode
Fixed: Bug with mysqli auto complete
Fixed: Bugs with saving FTP and SQL settings in portable mode
Upgrade is easy and your old settings are saved
German, Russian, French, Hungarian, Dutch versions are available
Roadmap for 2015 – 2016
While we have implemented over 100 new features and fixes, we still have a lot of work to do to perfect and improve our code editor, so here is what we have in mind:
Introduce all-mighty search box that searches everything (it was planned for 2015, but we did manage)
Add more powerful support for more programming languages and frameworks
Maybe: Introduce more powerful SQL features
Maybe: Create some sort of online/cloud-based code snippet library
Maybe: Introduce visual code navigator